Greenwich Book Festival 2018 – Exhume Those Stories
Dramatising African-British History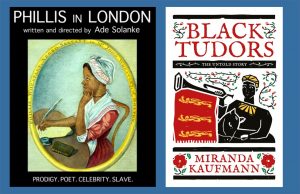 Join us for this fabulous discussion at Greenwich Book Festival 2018
Exhume Those Stories: Phillis Wheatley and John Blanke, readings and panel discussion
Sat 16 June 2018 15.30 – 17.00, Council Chamber, Queen Anne, Old Royal Naval College
Chair: The Right Honourable Diane Abbott MP, Shadow Home Secretary
Performances, discussion, and extracts from: Incomparable Worlds by S.I Martin, soon to be adapted by BBC/Ridley Scott; Black Tudors by Miranda Kaufmann, soon to be adapted by ITV/Silverprint Pictures; a new edition of The Interesting Narrative of Olaudah Equiano edited by Brycchan Carey; and new plays,  Phillis in London and The Court Must Have a Queen by Ade Solanke, the latter to be performed at Hampton Court Palace June 29th – Sept 2rd 2018.
"You know, there's one place that all the people with the greatest potential are gathered. One place and that's the graveyard. People ask me all the time, what kind of stories do you want to tell, Viola? And I say, exhume those bodies. Exhume those stories."
In her powerful Oscar acceptance speech in 2017, Viola Davis exhorted storytellers to "exhume those stories," referring to the dearth of films and plays about African historical figures. Join us for rehearsed readings from two new plays featuring two extraordinary historical figures: Phillis Wheatley and John Blanke.