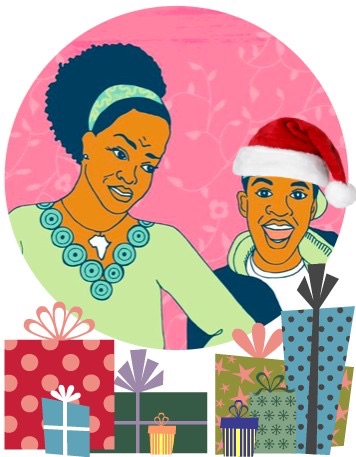 SEASON'S GREETINGS! It's time to celebrate!
Thank you all for your wonderful support during the recent UK tour of Pandora's Box.
Stories help us understand ourselves and each other better, and we're so thrilled at the enthusiastic reception we got all over the country. So many shows were sold out, mostly full of African audiences keen to enjoy theatre engaging with their experiences.
You welcomed us, encouraged us, and joined us in heated and  illuminating post-show discussions. We loved meeting you and hearing your views. The feedback has been invaluable.
Especially now we're working on a Pandora's Box sequel! And other new diaspora plays inspired by this success. It's terrific to know there's an audience that wants and appreciates our work as African theatre-makers.
But we want more people to join us in telling great British-African stories.
So here's our thank you gift: we've developed these fantastic free workshops to get you ready for a creative 2015! Explore fresh and innovative ways of telling stories. Come along and try different approaches to telling your own – through poetry, prose, script, music, song and dance. All ages and levels of experience welcome!
Ready to join in? Email sporaparticipation@yahoo.com
STORYTELLING
SATURDAY 13th DECEMBER Studio 2, Arcola Theatre, 24 Ashwin Street, London, E8 3DL
POETRY & PERFORMANCE 10:00 – 12:00
Back by popular demand, dancer and writer Funmi Adewole (of Numbi Arts Collective) offers her unique workshop on poetry and performance. Suitable for all, this is a chance for you to write and perform a new work in a fun and supportive environment.
FOLK TALES 12:30 – 14:00
An interactive storytelling session and audience with author Pa Ogunlana. He'll talk about his work transcribing thousand year-old traditional African folktales and publishing them for today's readers. Pa will read extracts from his books, Yoruba Love Stories and The Quest for the Rare Leaf.
STORY & MOVEMENT 14:15 – 16:00
Funmi Adewole leads a workshop on expressing your ideas through words and movement combined. Join this dynamic and expressive session on ways your body can tell stories too!
DRAMATICS! 16:15 – 18:00
Alex Oma-Pius (founder and director of Iroko Theatre Arts) leads a family workshop on African storytelling. Explore narrative techniques using drama, music, songs, movement and games. High energy, fun and excitement!
SONG & MUSIC
SATURDAY 20th DECEMBER Studio 2, Arcola, 24 Ashwin Street, London E8 3D
SING ALONG 10:00 – 12:00
Learn to sing simple elements of traditional and contemporary Nigerian songs, led by popular Yoruba language teacher, Ogbeni (Mr) Kola – an expert in learning language through song.
YOUR STORY THROUGH MUSIC 12:15 – 14:00
What motivates you? What makes you unique? What are your dreams? Musician and youth advocate Magdalene Adenaike's workshop can help you explore and express your ideas and feelings creatively.
SING YOUR SONG! 14:30 – 16:30
Lánre Njoku combines acoustic folk and soul with captivating storytelling about her Nigerian heritage. Tell your stories too in this interactive songwriting session. Lánre will share the stories behind her songs and guide you to pen and perform a group song.
CREATIVE PATHS 16:30 – 18:00
Round off the day with a focus on how to make your way in the creative industries. You love the arts, but how do you build and sustain a career? We'll talk about developing creative projects and Spora Stories' recent experience running a successful national theatre tour. With guest artists, including award-winning actress, Ellen Thomas.
CHARACTER, PLOT, DRAMA
SUNDAY 21st DECEMBER Meeting Room, CLR James Library, Dalston Square, London, E8 3BQ
CHARACTER, PLOT, DRAMA 14:00 – 17:00
This creative writing workshop is for anyone wishing to find out more about dramatic storytelling for stage and screen. Led by Ade Solanke, you'll come up with characters and situations and discuss what makes African diaspora stories unique and dynamic. We'll play with different ways to bring your characters and story to life! So many stories, and so little time. Get writing!
We look forward to meeting you!
WORKSHOP LEADERS:
FUNMI ADEWOLE
Funmi moved to England from Nigeria in 1994 where she worked in the media as a freelance writer and TV producer. She toured for several years with various companies including Adzido Pan-African dance ensemble, Artistes-in-Exile, Horse and Bamboo Mask and Puppetry Theatre and The Chomondeleys. She was manager and then chair of the Association of Dance of the African Diaspora (ADAD) between 2003 to 2007. She co-edited the book Voicing Black Dance: The British Experience – 1930s to 1990s. She has spoken at conferences nationally and internationally on African dance as a theatrical practice.She teaches workshops and courses on dance composition exploring the theatricalisation of social dances in London and Amsterdam. She holds an M.A in Post-colonial studies from Goldsmiths College, London and is presently studying for a Doctorate in Dance at De Montfort University, Leicester.
Her group, Numbi Collective. run arts projects and events. NUMBI is a healing dance that happens in Somalia where one lets go of one's inhibitions and gets free. It is that ethos, with the emphasis on freedom, that inspired NUMBI founder, Kinsi Abdulleh, to set up the organisation. Their vision is to provide a platform for collaborative cross-cultural exchange for artists working in theatre, visual arts/ photography, music/Dance, and film – that draws from the experience of Somali communities around the world. Headed by a team of dedicated artists from different disciplines, they host NUMBI live show,  'A Night of Afropolitan Funk', an evening of spoken word, film/visuals, music, dance and comedy quarterly at Rich Mix Arts Centre in Bethnal Green, London.
PA OGUNLANA
After a long career in Insurance, Olabode Ogunlana turned his knack for proverbial story telling into fiction writing. He has translated traditional tales into short stories for international audiences. The stories are fascinting insights into classical  African culture for an international audience interested in Yoruba or Yoruba-inspired narratives. They share the author's perspectives about everything from the meanings of the numerous proverbs enriching the Yoruba language, toaspects of  history and culture in South Western Nigeria. Pa  learned oral storytelling from his grandparents and is passionate on continuing the tradition, as well as making the stories available to non-Yoruba audiences through print.
ALEX OMA PIUS
IROKO Theatre Company was founded in 1996 by Alex OMA-PIUS. Alex trained as an actor and director at The National Academy For Theatre and Film Arts (NATFA), Sofia, Bulgaria. He has worked extensively as a performer and director and his credits include work with the BBC and the Royal Shakespeare Company. Alex formed IROKO in order to enhance the understanding and appreciation of African culture and arts amongst society as a whole. The company's primary aim is to advance the education of members of the public in the arts and in particular (but not exclusively) in African arts, and to use traditional African theatre art forms as a vehicle for facilitating learning and self-development, particularly amongst children and young people. IROKO's fundamental principle is that its work should have a meaningful effect in the lives of the young people involved: it should educate, empower, motivate and inspire them, and at the same time it should be fun.

KOLLA KOLA OGUNBAYODE
Kola runs a popular weekend language school teaching Basic Conversational Yorùbá. This course provides fun lessons helping participants to: • Learn basic Greetings and Roots-Heritage. • Learn basic conversations and translate from English (role-play). • Learn to count from 0-10. • Rudimentary reading and writing. • Usage of certain verbs in s sentence • Learn alphabet and recognise letters. • Learn basic grammar and pronunciation. • Increase Yorùbá vocabulary. Translation of English. • Usage of: Kini, Tani, Nibo, Bawo, Nigbawo, Nigbati, Iyi, Iyen, Ewo, Melo in phrases.
MAGDALENE ADENAIKE
Magdalene founded Music Relief to offer music, danc and poetry as a creative way to promote positive youth development. Her creative workshops reflect her belief in the healing power of the arts and their power to transform lives. Participants are guided to build their confidence and increase their self-esteem as they develop new skills.

LANRE NJOKU
"Headlining we had the beguiling Nigerian songstress Lánre, who held the auditorium in the palm of her hands. Armed only with her personality, her smile and an acoustic guitar, she took us on a journey back to her homeland (via Stoke-on-Trent) painting many vistas and drawing on many emotions with bright African colours – absolutely spellbinding" John Drummond – Brewery Blues
From Lanre's website:
" I was born in Stoke-On-Trent England many years ago to an amazing mum and an adorable dad …My parents thought it was a good idea to learn about my heritage and to grow up knowing the rest of my extended family, so at age four I traveled to Nigeria with my parents where I spent the next twenty years studying, learning and living. My first public performance was at the age of eight when I got picked to lead the song 'Don't do that to the poor pussy cat' at the local radio station. My teacher chose me to lead because according to her, I sang like an Angel. Awwwwwwwwwwww! Growing up in Nigeria meant music was a hobby and passing my Maths, English and Sciences with flying colours became high on my priority list. I picked up my love for writing and music again in year 2002 when I joined the award winning UK collective GK REAL and that musical journey took me around the world singing and performing with amazing singers, writers and producers. Discovering the guitar and freedom to express my thoughts is why you're here reading my story which is to be continued… so who am I….?
I am a writer
I am a singer
I am a wife
I am a sister
I am a daughter
I am a friend
I am African
I am British
I love God
I love reading
I can play a few chords on the guitar
I tend to go into my own shell even in the midst of a crowd
I have loads of stories locked up in my head
I am on a journey of discovery and I am excited!!