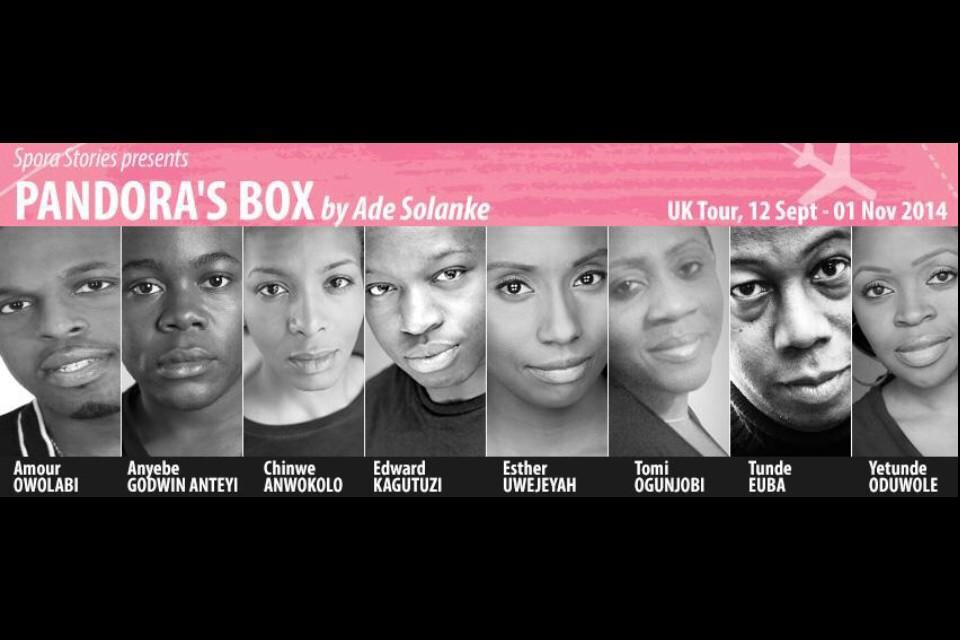 CAST LIST PANDORA'S BOX NATIONAL TOUR 2014
Spora Stories is delighted to announce the cast for the UK Tour of Offie-nominated Pandora's Box.
The cast includes TUNDE EUBA (BABA), CHINWE NWOKOLO (BEV), ANYEBE ANTEYI (TOPE), EDWARD KAGUTUZI (TIMI), YETUNDE ODUWOLE (SIS RONKE), ESTHER UWEJEYAH (TOYIN), AMOUR OWOLABI (PRINCIPAL OSUN) and TOMI OGUNJOBI (MAMA RONKE).
Following sell-out shows at Arcola Theatre, the acclaimed, award-winning British-African family drama, Pandora's Box, embarks on its long-awaited UK tour. Shortlisted for this year's Nigeria Prize for Literature, Africa's biggest literary award, and nominated for Best New Play, Off West End Theatre Awards, this moving tragicomedy about families, betrayal, choices and love is a must-see.
This autumn offers the chance to catch this 'touching, hilarious' (The Stage) play that has been dazzling audiences with its 'enthralling, brilliant' (Public Reviews) story and performances. Pandora's Box is generously funded by Arts Council England with additional funding from the Unity Theatre Trust.
"You think England is hard? Compared to Nigeria? My dear, you haven't seen anything yet!" Summer break is ending. On holiday with her streetwise son in Nigeria, a British-Nigerian mother is in turmoil. Should she leave her only child in a strict Lagos boarding school, or return him to the battlefields of inner London?
"What do you see out of that window? People right? Just people. Because there are no 'Black' people in Africa. Let him experience that for a change." A family spanning three generations and two continents meets in Lagos for the first time in over thirty years. But the joy of reunion also unleashes long-suppressed truths. An exuberant and thought-provoking mix of comedy, tragedy and family drama, Pandora's Box reveals the heartbreak behind the difficult choices some parents must make – and the price their children pay.
TUNDE EUBA (BABA) is an actor/director/writer/facilitator who has enjoyed a long and varied career in theatre. Starting out as an actor, he later explored other "areas of artistic expression" and turned his hand to writing, directing and more recently, photography. After a ten year break from touring, Tunde is 'back on the road again', fittingly retrieving his role of Baba six years after his appearance in the very first reading of Pandora's Box at the Almeida Theatre.
CHINWE NWOKOLO (BEV) is an actress from South London. She studied entertainment journalism but after playing a role in a short film at university, she turned to acting. After graduating, she enrolled at a weekend drama school where she began her career. Credits include: West 10 LDN (BBC Three). My Territory (Soho Theatre) The Gods Are Not To Blame (Young Vic theatre) and most recent House of Corrections (Riverside Studios).
ANYEBE GODWIN ANTEYI (TOPE) is an actor from south London. He performed as Ariel at the age of 10 in a school community performance of The Tempest at Southwark Playhouse. Since then he has performed at many venues and has two successfully sold out tours with State of Play Theatre. Anyebe trained at Rose Bruford College and is also a member of Theatre Royal Stratford East's Young Artists Lab, most recently performing in their Summer 2014 studio season. . Credits include: G.I Joe In Dorset (Tour and Mary Shelly Theatre); Flat Lives (Theatre Royal Stratford East); Family 2.0 (The Cockpit Theatre); and Misidentity (Lost Theatre).
EDWARD KAGUTUZI (TIMI) trained at Identity Drama school, Theatre Studies A-Level. Credits include: Theatre – House of Corrections (Bola Agbaje), Covered (Daniel Bailey). Television – Law and Order UK (ITV), Brixton Hill Cop (Triple Threat Media), Mo Ali (Dubplate Drama, Channel 4). Film – The Mirror Boy (OH TV), Illegal Activity (Kingdom Vision Pictures). Awards – Best Young Actor (African Movie Academy Awards), Best Actor (BEFFTA).
YETUNDE ODUWOLE (SIS RONKE) trained at Central School of Speech and Drama, Stella Alder New York, Goldsmiths College and City Lit. She has worked with Tiata Fahodzi, Talawa Theatre, Royal Court Theatre. Credits include: Adulto Orgasmo (Lion 7 Unicorn Theatre), Torn (Arcola Theatre), The New Boss (Broadway Theatre), Hackney Streets (Rosemary Branch Theatre), The Harlot (Coronet Theatre), The Wedlock Of the Gods (Cochrane Theatre), Meet the Adebanjos (Hackney Empire, Catford Broadway Theatre and the OHTV television series), Pandora's Box (Arcola Theatre) Youngers (E4) and various short films.
ESTHER UWEJEYAH (TOYIN) is a member of Fragments Theatre Company. She played Pontius Pilate in their recent adaptation of The Master and Margarita. Recently she played Nina in Satanic Panic in a successful run at the Drayton Arms Theatre. A Modern Drama Graduate (Brunel). Esther's work can also be found on screen having appeared as Sabrina in the popular web series Brothers with No Game and as Anne in the web series Redemptions End.
AMOUR OWOLABI (PRINCIPAL OSUN) trained at The Actors Centre, The Actors Lab and Identity Drama School. Amour is a BEFTA and LA-WEB award winner. Recent television and film includes: Dignity Of Difference (BBC), The MehmeFemi's, Hunting For Hubbies; Silent Witness (BBC); Fall Out (Ch4); Sprint; GT Assure; Nigerian Heritage; Bouquet; Shooting Stars (BBC); All About The Mckenzies; Daarsat; Rayban; Unspoken series 1 & 2; Sainsbury's; Displaced Diagetics; Shattered Hearts; MTV. Amour has been presenting a live TV show on BEN TV for the past three years.
TOMI OGUNJOBI (MAMA RONKE) is a graduate of Theatre Arts, University of Ibadan, Nigeria, specialising in acting, singing, dance and movement. Tomi has worked with Ola Rotimi, Femi Osofisan, Dapo Adelugba, Bayo Oduneye, Bassey Effiong, Ben Tomoloju, Chuck Mike and Rufus Norris. Recent credits include: Our Husband has Gone Mad Again by Ola Rotimi, Where the Devils Dwell by Rhiannon Tise, Royal Court Young People's Theatre London and Muje-muje by Ben Tomoloju.
ADE SOLANKE (PLAYWRIGHT) is an award-winning playwright and screenwriter and founder of Spora Stories. Her acclaimed play, Pandora's Box, was nominated for Best New Play in the Off West End Theatre Awards and is shortlisted for the Nigeria Prize for Literature, 2014. Several of Ade's scripts have been both quarter and semi-finalists in the US Academy's Nicholl Screenwriting Contest. She worked in Hollywood as a Story Analyst. Earlier in her career, she was voted 'London's Top Youth Entrepreneur' for her writing business.
Twitter: @sporastories / #PBox2014 | Facebook: www.facebook.com/SporaStories