Writer/ Producer: Ade Solanke
Director: Ola Animashawun
Reviewer: Louise Thompson
The Public Reviews Rating: 
I have approximately 500 words in which I can review this play and all I want to write is 'absolutely brilliant' 250 times. However, I will give a little bit more information and tell you why I think this deserves a five star review.
Pandora's Box is set in Lagos and is centred around Toyin (played by Anna-Maria Nabirye), a single mother who is caught between returning to London with her 15 year old son Timi (Bradley John) and allowing him to continue his education there and giving him the chance to be educated in one of the best schools in Nigeria. The entire story is played out in the front room of Toyin's rich sister Sis Ronke (Yetunde Oduwole) who with their mother Mama Ronke (Susan Aderin) and Toyin's best friend from London, Bev (Petra Letang), is desperately trying to persuade her sister to send Timi to school in Nigeria.
What makes this play incredible, is not only the humour that runs throughout, but the real life portrayal of relationships, the pain caused by loss and the realisation of what mother hood is really all about. The stark contrast of two cultures and the way in which the two sides of the family have been raised in either London or Nigeria adds to the reality of the situation and, in a very simple way, allows the audience to see both sides of the story.
Tope (played by Damson Idris) is Timi's older cousin who has already been sent form London to Nigeria to be educated and gives the audience a new perspective on the situation along with Toyin's uncle Baba (Olatunji Sotimirin). Idris gives a fantastic, honest and energetic performance as do all of the actors with Bradley John's final scene really breaking my heart.
The Arcola Theatre Tent is an interesting venue, the stage is set in the round with tiered wooden benches. It is informal but comfortable and on press night, was completely sold out. The layout allowed the audience to feel connected with the action at all times.
The sound and lighting (designed by Katie Pitt and Helen Skiera and operated by Tom Walters) are kept simple, giving clear scene changes and the odd sound effect. However, this is fine, there is no time or need for over the top technical magic, the play is honest, simple and enthralling and as I said before, absolutely brilliant.
Runs until May 26th
Afridiziak Theatre News Review:
Pandora's Box by Ade Solanke, Arcola Tent
Published: Monday, May 14, 2012 17:25 | Words: Gillian Fisher | ATN Rating: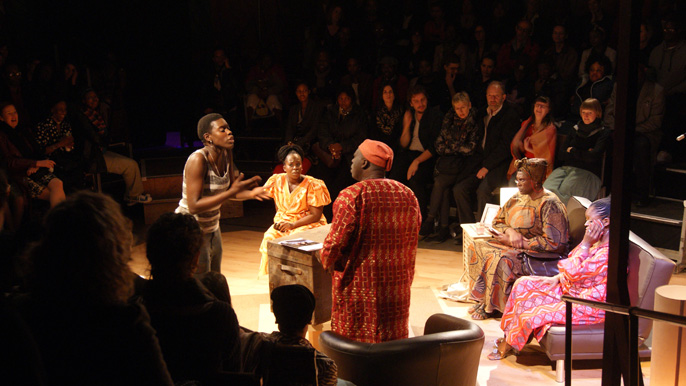 Pandora's Box by Ade Solanke at the Arcola Tent [image credit Kweku Fleming]
A mother's love. An affection between parent and child that spans any distance and any period of time. Or does it? Thirty nine years ago Pandora went to study in England leaving her two-year-old daughter Ronke in Nigeria, intending to return and provide a better life. But she never came back. Returning to Lagos for a holiday she is caught between Ronke, the daughter who has never accepted her own desertion and Toyin, the daughter she raised in England who feels out of place in this bustling African city. Adding to the family tension is the fact that Toyin is now echoing Pandora's heart-breaking decision as she considers leaving her wayward son Timi in a Nigerian boarding school. Failed reconciliations, sibling rivalries and life changing choices. Commence some serious wahala.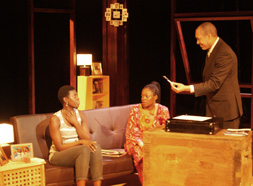 Pandora's Box by Ade Solanke at the Arcola Tent [image credit Kweku Fleming]
Ade Solanke's much anticipated drama is a touching exploration of separation and the divides between family living on different continents. Ronke and Toyin may be sisters but after a month spent together in Ronke's lavish townhouse are still as strangers. The bitterness Ronke feels towards Toyin having grown up with a mother's influence runs far deeper than any blood ties. Yetunde Oduwole takes a while to fall into her role but when she does she masterfully embodies all the abandoned pain of a two-year-old standing at the docks waving goodbye to her mother. Her furious rejection of the gifts her mother Pandora has lovingly collected for her over the decades brought tears in abundance. 
Toyin feels isolated and unaccepted in Nigeria, her supposed homeland where she is referred to as one of the Oyinbo Dudu – 'black white people.' Played resolutely by Anna-Maria Nabirye she still views Timi as her baby, smothering him with insect repellant and rejecting the urban youth stereotype that the media applies to him. However, her desire to protect her son has blinded her to the fact that each day he becomes more like the gun wielding adolescents plastered all over the papers. 
The teenagers provide some comedic relief to the intense, albeit humorously presented drama. Timi played by Bradley John is the epitome of a London wideboy. Two weeks prior to his 16th birthday his brain swims with rap lyrics and visions of bling as he becomes more embroiled in the violent street culture that has claimed the life of several of his friends. 
His cousin Tope is played with superb animation by Damon Idris. Whilst he mourns the loss of KFC and was shocked by the harsh reality of his Lagos boarding school he has embraced his new life and is committed to his studies. His reunion with Timi lucidly shows him as the boy he once was – all swagger and slang spitting. Having exchanged Nike trainers for hessian sandals he is strangely contented.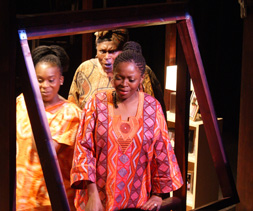 Pandora's Box by Ade Solanke at the Arcola Tent [image credit Kweku Fleming]
Many issues are at play here; concepts of home, the meaning of family, clashes of cultures and the difficulty of identity. Solanke's writing is nothing short of magnificent, skilfully expounding the different perspectives of the Diaspora with sensitivity and humour. When leaving your homeland also means leaving your loved ones behind all that remains is the hope that you are doing the right thing. This production shows the reality and the consequences of that decision; the anger, guilt and turmoil that has remained locked away only to burst forth with a vengeance when the lid on Pandora's box is finally lifted.
---
Related links
Pandora's Box is on until May 26 at the Arcola Tent 
Afridiziak Theatre News interview with Pandora's Box
Meet the cast of Pandora's Box
See all the pix from Pandora's Box from press night to rehearsal pix
 Ade Solanke talks to Henry Bonsu on Vox Africa about Pandora's Box
More Praise for Pandora's Box
"A funny and poignant play. All parents agonise about educational choices for their children. For Black and Diaspora parents, race and culture make the decision-making even more complex." – Diane Abbott MP
"Honest, simple and enthralling… What makes this play incredible, is not only the humour that runs throughout, but the real life portrayal of relationships… absolutely brilliant" – Public Reviews
"It's firecracker theatre that, in places, is as touching as is it hilarious." – The Stage
"A lively soap opera of family dramas and bubbling resentments which touch on issues of identity, heritage, mothering and the motherland… Pandora's Box buzzes with life and the tensions of real people." – Guardian